Benefits of LED Retrofit Lighting
We at Augusta LED have spent 40 years in the lighting and electrical business witnessing how retrofitting a facility with LED lights can benefit residences and businesses. Here are some of the many advantages: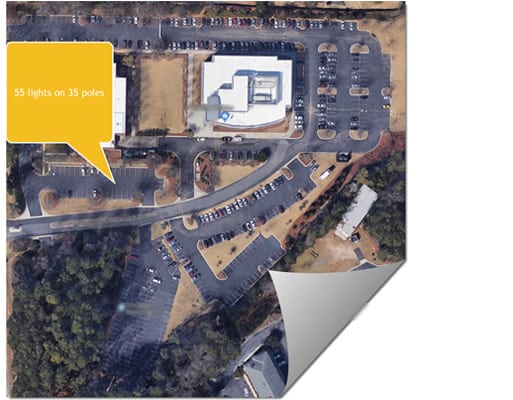 Study this Financial Model
A parking lot has 55 lights on 35 poles covering about 286,000 square feet. They operate by a time clock for 12 hours each day, 7 days a week for a total of 4,368 hours each year. The combined annual burn time is 103,522 Watt-hours at 0.10 cents per kWh for a cost of $10,352 per year. The LED replacements will only cost $4,233 per year to operate, which will average about $510 per month in savings.
If this was your facility and you do nothing, in ten years you will spend $103,522 for lighting!
However, if you change to LED lights you will spend $42,325 saving $61,195. That's about 59%!
Wondering what does a project like this cost? Well, with materials, supplies, equipment rental and lamp disposal fees, the project cost is about $34,000. But, you don't need that much money.
PLEASE DON'T CLICK OFF THE PAGE. THIS IS WHERE IT REALLY GETS GOOD.
Let's say, you work with a finance company that offers a 60-month lease. In this example, the payments are about 20% more than the savings due to the equipment rental. Alternatively, you could put the 20% down and keep the payments about the same as the savings.
The power company has a rebate of about $3,100!
This is a free analysis! Explore Your Savings!